The Final Search for Luxury
This week my little sister graduated from high school. Two weeks before, she told us she needed a different car for grad. According to my sister, my car or her '03 Malibu wasn't fancy enough for the occasion, so I was on a hunt to rent her a luxury car.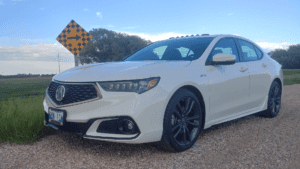 After several hours of combing the internet and asking around, I discovered Winnipeg has exactly zero luxury car rentals. Feeling defeated, I spoke with Tony, our Acura Sales Manager. Tony graciously offered the use of an Acura for the night, and to my surprise when I arrived on Tuesday, he had a brand-new 2020 Acura TLX A-Spec waiting for me. It was so new that it only had ten kilometres on it and had been in Winnipeg for only a few hours.
The comfortable cabin had lots of features that I had never seen before, and the 
metallic
 paint job sparkled in the sun. This was a beautiful car.
As soon as I sat in the TLX, I felt very small. This is only a mid-size sedan, but extremely roomy. I adjusted the seats, but later to my surprise, I discovered that as soon as you open the driver's side door, the seat moves back to give you more room getting out. I'm only 5'2 and didn't need the extra space, but a full-sized adult could find this extra feature very helpful.
As I drove away, I had one extra stop picking up something for my sister, all the way at the Polo Park Mall. The extra time allowed me to test out its features, including the moonroof. As I 
drove,
 I wondered how Acura driver's ever left their driveways with all the features to explore! My own vehicle doesn't even have cruise control so going from that to fully loaded TLX was a learning process. I had to be careful not to distract myself with the tech, including all three driver's screens.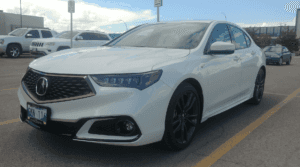 Driving home in rush hour was not what I wanted to do in a brand-new Acura, so I drive down Osborne. The drive was longer than 
Kenaston
 would have been, but at lower speeds, I felt safer battling the traffic. By the time I hit the highway, I had driven from CROWN Acura to Polo Park. I assumed I had used close to a quarter tank of gas, but the needle hadn't even moved! I was very surprised. Watching other drivers checking out the car was also a bonus of my route.
Getting on the highway was very fun. The 2020 Acura TLX A-Spec has four modes, ECON, Drive, Sport, and Sport+. I bet you can guess which one I was eager to try out! As I was obeying the speed limit a truck with a trailer cut me off, right in front of me. I slammed on the brakes but was very surprised to see that I stopped in time. Turns out my refle
x
es aren't 
quite 
as fast as the 
Collision Mitigation Braking System, which 
stopped
 the car for me!
 I took advantage of the fields and dirt roads on my way home off of the highway to take some photos of the car.
Once I arrived home my sister and her date were waiting at the door. I told my dad that I was home and ready for them to take pictures. My dad practically ran out of the house to check out the car, forgetting my sister in the process.
I joked around with my sister and her date, telling them a little bit about the car. My sister asked about what type of gas it takes, and I mentioned premium. Her date was quick to reply with "It LOOKS like it takes premium."
Taking photos was the fun part. I showed my dad that to get a good car picture, you get low to the ground and go with the car's angles. 
My sister's dress had some poof, so I slid the front passenger seat all the way up. She slid in, but it 
turns
 out the back it a lot roomier than I thought and we didn't need to adjust the seats at all.
Once we arrived at their event 
centre
, I pulled up to the doors so everyone could get a glimpse of the pair leaving such a nice car, parked, and carried their bags like the good sister I am into the building, ready for them to have a fantastic night.
Driving the car back was a bitter-sweet moment. I was glad that my sister had a fantastic graduation from high school, but also sad to see the TLX go. Thank you to Tony and CROWN Acura for helping make my sister's night special!